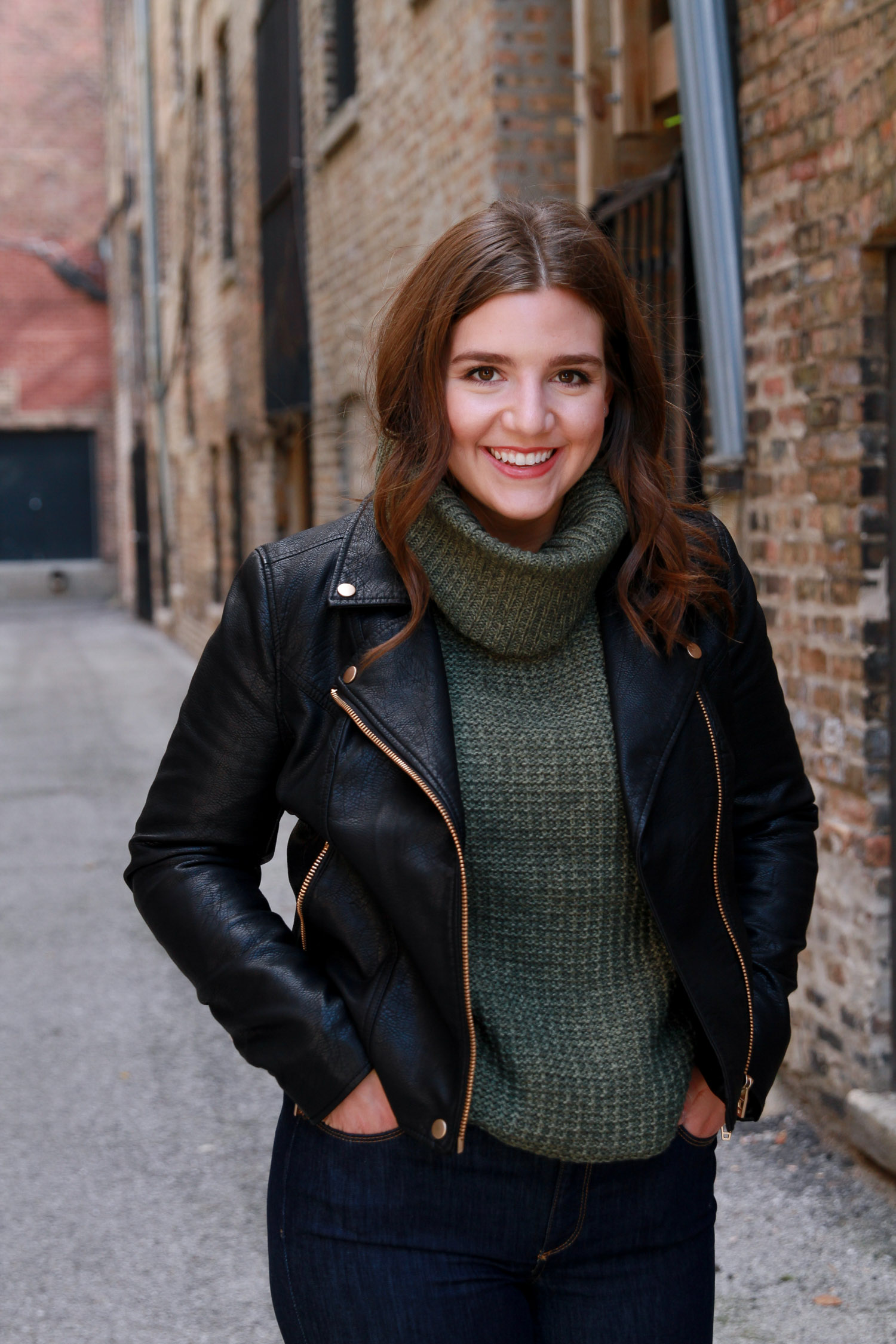 Happy 2018! Hope you all had a wonderful time over the holidays with family and friends. I spent Christmas at home in Indiana and then headed Up North to celebrate one of my closest friend's 30th birthday and New Year's Eve. It was the perfect getaway for me – the person who has a strong dislike for NYE and the bells and whistles that go along with it.
I won't go into detail in this post, but a big intention of mine for 2018 is to really observe and monitor my spending habits. While I'd like to think I'm a pretty frugal person, and have a general idea of what I spend my money on, I couldn't tell you the specifics. Here's to learnings and reprioritizing! Part of this observation includes revisiting my favorite purchases I made last year – what was really worth it and got the most use, no matter how big or how small. I rounded up my new favorites  below – the ones I'll likely buy a few times over.
1. BLANKNYC Life Changer Moto Jacket (pictured)
The name of this jacket says it all. I tried to avoiding buying this highly-recommended jacket for more than a year. For less than $100, this jacket is a steal and looks like real leather. When I finally caved during the Nordstrom Anniversary Sale – when it was $64! – It was sold out in my size. It fits like a glove, is structured perfectly and has the prettiest brass hardware. Well worth the cash.
2. Gap Jeans  (pictured)
I was on a mission last year to try and find new jeans – I know, that sounds obnoxious. I'm not lying when I say I had 1 pair of jeans that fit, and also fit into the dress code at my office. The rest are ripped (on purpose) or are so worn in color they look horrible. I took advantage of Gap's very frequent sales and picked up a few pairs when they were half off. My favorite fit is their True Skinny line! I also shamelessly bought jeggings, too.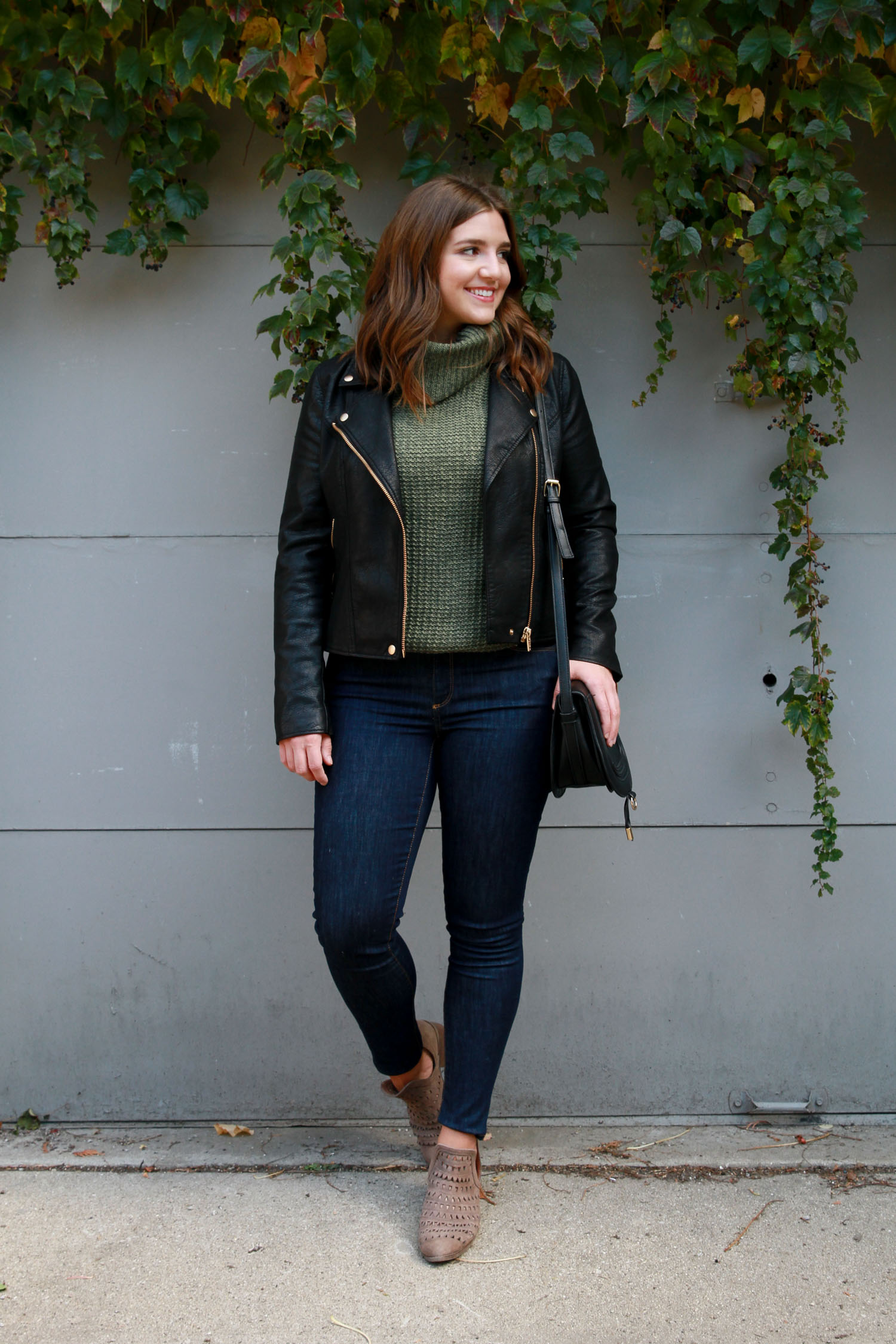 3. Target Sweaters (pictured)
I'm not big on paying a lot for a sweater.  By the time winter's over I want to burn them all and never wear them again. Is it just me, or does it feel like every winter you just wear the same ones week after week? Thank God for Target. I literally stumbled upon the turtleneck sweater I'm wearing in while shopping in-store. I bought another color, and then soon after saw a couple co-workers wearing the same. In addition, I purchased an oversized mock-neck sweater that is now sold out, but it's so cozy I wear it to lounge 24/7. Unfortunately, the sweater pictured in these photos is also sold out. But I love this similar version, this one and this one.
4. ASICS GT 2000 5 Running Shoes
Back in May, I somehow (still not sure how/why!), I pulled a tendon in my ankle/foot and made my way into the podiatrist's office like the old soul that I am. This bummer news was hard for me  to hear at the beginning of summer, but it was a huge eye opener in realizing that my feet need much more support than the flimsy training shoes I had been wearing to workout. So, he sent me off to buy some ASICS. I've now bought the exact same pair of these shoes twice, and it has made the biggest difference. By far, the most comfortable shoe I've ever worn in my life. Nordstrom Rack also has quite a large selection of ASICS – including a slim selection of this shoe – in stock right now.
5. Nike Juvenate Shoes
On to a pair of shoes my doctor would not recommend. I bought these prior to my injury and love to wear them when not much walking is involved. I know I shouldn't, but I do try to keep it to a minimum. They're easy to slip on and look great.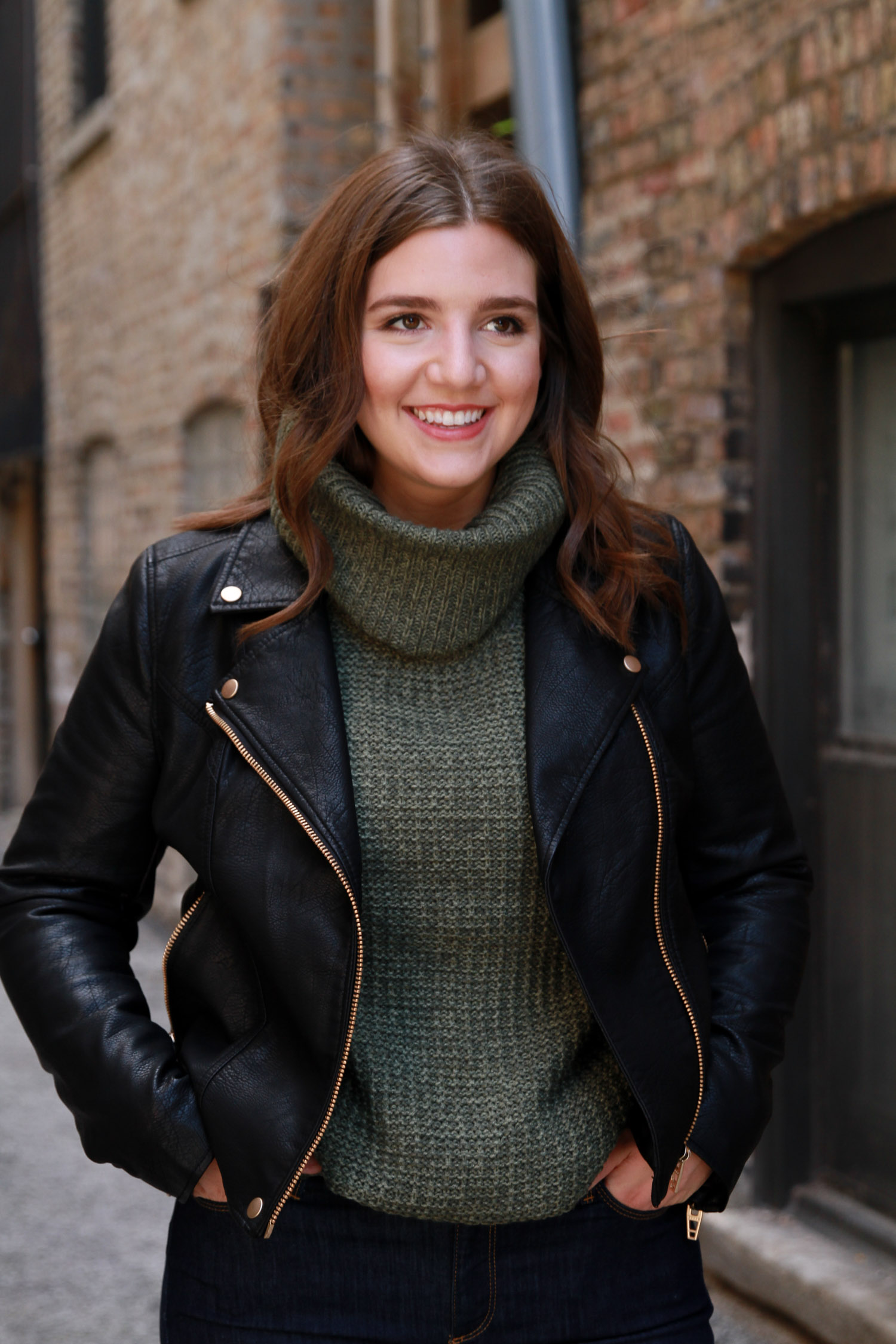 6. Nike Epic Lux Running Capris
Okay, so I bought a pair of these last year – and the year, before too. They're the only pants I workout in. They're light, breathable and stay up. Feels like you're wearing nothing. A week ago I bought myself another pair, because they're currently on sale. Not sure what I'd do if they ever stopped making them.
7. Old Navy Go-Dry Active Socks
I'm a tad bit embarrassed to admit that I'm a white sock wearer – boot socks, bedtime socks and short workout socks. Once I got my black ASICS my sweet friend kindly but straightforwardly told me I had to get black socks. She recommended these from Old Navy. They rival expensive, athletic-brand socks and they're  thick and cushiony. Great deal for the price, and I've since given up wearing white socks – to the gym, at least.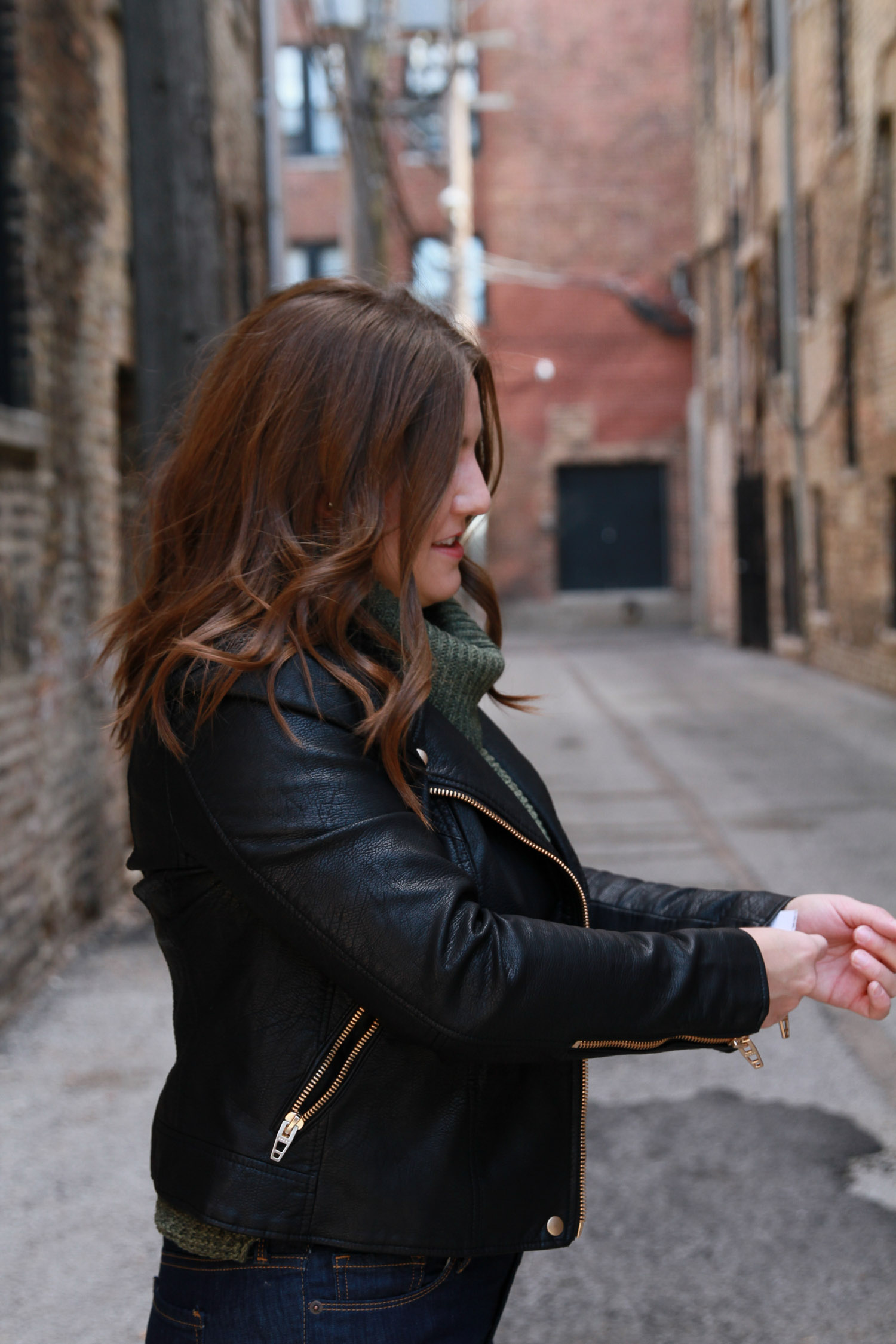 Photos by Kenzie Kokta
8. Petitfee Gold and Snail Hydrogel Eye Patch – I first heard of these from Hallie Wilson of Among Other Things. I'd always wanted to try eye patches, but didn't want to spend a lot, and these were perfect! I even bought a pack for my sister for Christmas. They help with puffiness, hydration and leave my eye area smooth and tight.
9. Crate & Barrel French Kitchen Marble Pastry Slab
I bought this slab with the sole purpose of using it as a bright, clean background to photograph food on – see this recipe and this one. But, just as I convinced myself when I purchased it – it's been used for a variety of things. I love using it to roll out cookies, considering the cold stone keeps the dough evenly chilled. It's heavy, but the perfect addition for any baker or beginning photographer.
10. Apple MacBook Pro
Ahhh, the good 'ol tax return purchase – I almost forgot. One trip to the Apple Store with a broken iPhone and a PC that is sooo old it can't update to the new version of iTunes, thus making it impossible to backup your phone was enough for me to realize it was time to bite the bullet. (Trying to be smart, I immediately crossed Michigan Ave. and went to the Windows store, where I was told my computer was sooo old that it likely wouldn't be able to handle a Windows Update, and that it would probably crash.) Great. This was two weeks after I stashed my tax return into my savings and right around the time that I was getting serious about starting this blog. I saw it as a sign, and pulled the trigger on probably the most expensive purchase I ever made in my life. (No car or house purchase for me, yet!) Was it an overbuy for my skillset? Probably. But I wanted to commit to learning Adobe programs like Photoshop and Lightroom – which I've began – and bought this with the notion that it made the most sense for my long-term goals. Thank you, Uncle Sam. And old PC that has lasted for me since 2009.
Is there anything specific you bought last year that was well worth the investment? I'd love to know!