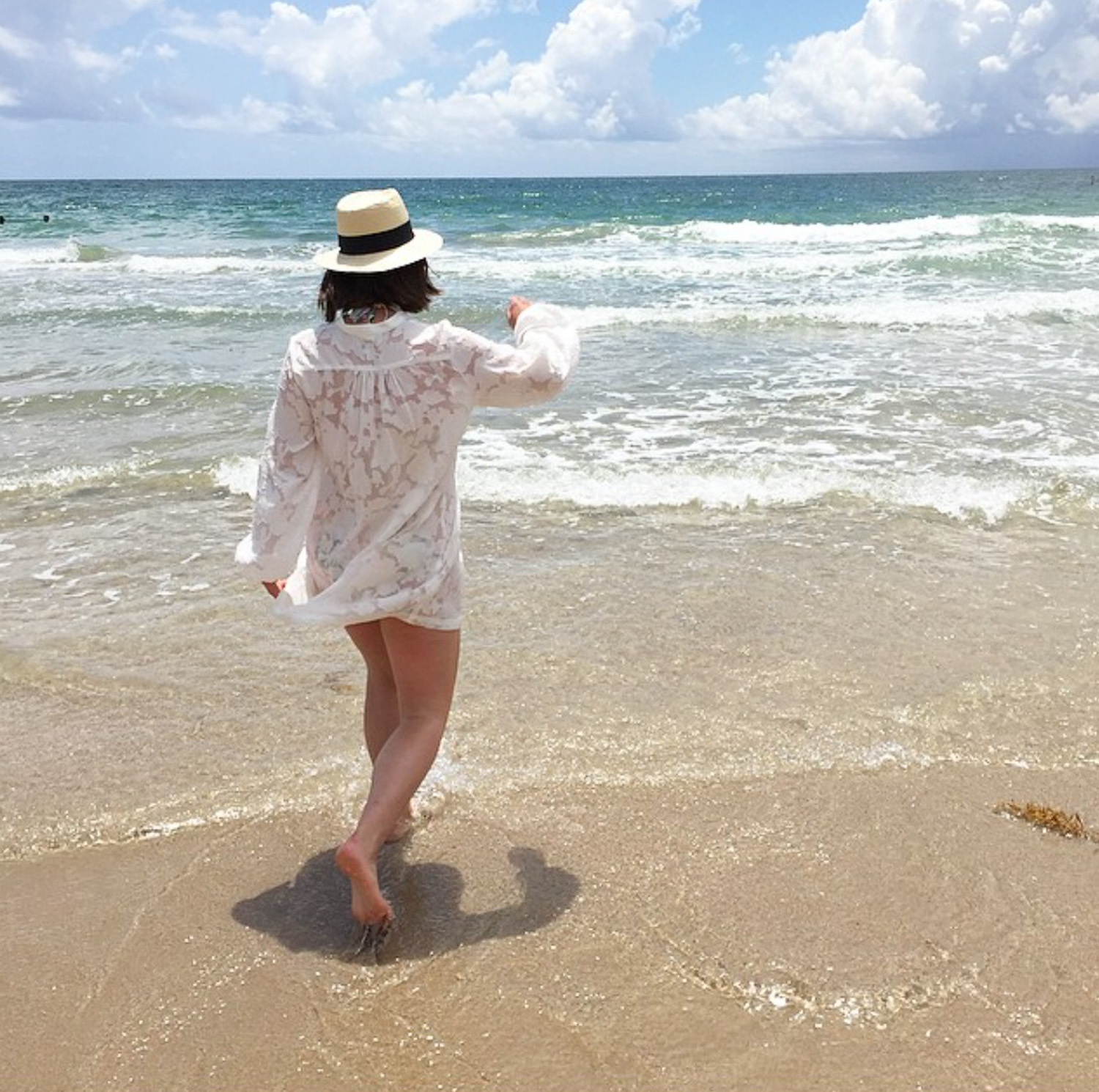 I said it already in this post, but happy 2018! I finally feel like life has started to slow down – in one way – and picked up in another, in traditional post-holidays style. The end of every year is so busy in the best way, that it often takes me a few weeks in January to really step back, think about the year I had, and set some realistic intentions for the new year. I would like to paraphrase that as, "getting my life together."
While I'm not keen on "New Year's Resolutions" – who says you have to wait till January 1? Last year, while spending time with friends on NYE, we each jotted down a few goals and intentions we wanted to accomplish and focus on in 2017. And I will admit it's true what they say about the chances of following through with your goals if they're written down. Most importantly, the one that I set and kept was creating something I've wanted to do forever – start this little blog.
While I have no room to complain and I feel very grateful, the first half of 2017 was a bit rough. I didn't feel like myself, and in turn felt worse about myself for not trying to take control and make changes. I did my best to turn that around and the end of the year felt much different. Maybe it's because I finally started this blog as a creative outlet and hobby to focus on, or because I made a big change at work, but I feel more motivated, optimistic and happy than I have in awhile.
And I want to thank any and all of you who have tuned in to read my ramblings on this site. I would still be doing this even if the only people visiting were myself, and my mom, but I so deeply appreciate the thoughtful comments and the engagement from anyone who's read anything on here. It makes my heart warm and I'm so humbled.
As I mentioned, I try to focus on "intentions" throughout the new year. To me, that means choosing a couple of goals and ways of thought to concentrate on. With the realistic expectation that some will take priority of the others, and that's okay, too. And after a few weeks into 2018, I think I've wrapped my head around my thoughts, and what's bugging me that I want to change. (Writing this post was really a selfish decision to hold myself accountable for what I what to accomplish – and I plan to come back to this post to remember what I committed to.) I also wrote a list going of specific things I want to complete with each of these intentions. (Like actually set an appointment with a doctor. Actually, I need find a doctor first, TBH.)
Don't Ignore Your Health
Eating better and working out more are things I should focus on daily, but I've got bigger things to check off my list in terms of health. This year I want to get to everything I've wanted – really needed – to do for my health for years. I haven't had a physical since it was probably required before college? Or was that before a tennis season in high school? Not sure. And as much as I'll hate to hear whatever they have to tell me, I've got to go. Also, I should probably  get that one mole removed and should probably buy the custom orthotic shoe inserts (grandma alert!) that my podiatrist told me to. (They're just so expensive!) All of these are  necessary proactive steps to staying healthy – as the implications down the road can be scary.
Budget + Save
I'd like to think I'm somewhat good with my money. I'm frugal, I shop when things are on sale and I only go out for drinks after work if there's a happy hour special (duh, lol)! But as I mentioned in this post, I don't really know how my purchases are divvied up. Not sure how much I spend if I go out on the weekend. Nor how much is spent Uberring. I need to first really analyze my spending, then find ways to improve or shift it. This us something I've been saying I'd do for years and it's not leaving the list until I do it.
I've got some exciting travel plans in the next 6 months, not to mention I'll be needing to find a new apartment – to me, that's a lot of unknowns to save for. This will be a peanut butter and jelly year, for sure. Or, at least spending a good chunk of it rearranging my spending.
Don't Be Afraid to Be Open and Transpratent
This one can be applied in so many aspects of our lives. Ask any of my friends, family or exes and they'll save I have no problem being honest and telling you how I feel. Because I'm comfortable with them. Whether it's in business or on a first date, it's always a lot harder for me to be fully transparent and honest about what I want, if I'm not completely comfortable in the situation.
I took a plunge with vulnerability last year in starting this site. I was weary, but decided, "screw it!" This is who I am. That plunge, along with another big one at work has me motivated me to put myself out there and be more aggressive in getting the things in life I want.
Stay Focused, Really Focused
I can tell I've improved on this in the last year, but I have the hardest time staying focused. If it's at work, I'll jump from one project to another. At home, I'll be writing a blog post and randomly start checking Instagram. Or, I'll start folding laundry and get distracted by dirty dishes in the sink. I've realized if I want to continue to grow this site and share lots of content regularly, I'll not only need to prioritize my time better, but I need to make the most out of that time and be as efficient as possible. TBD, people.
Show Gratitude
To yourself – and to others. I have been wanting to purchase – and should just bite the bullet – The Five Minute Journal. It's intention is to make you document and focus on the good in your days. In lieu of that, I've been trying to write down 3 things every day that I'm grateful for. I think I've done this 4 times since the start of the year, so it's not going that great, but I will make an effort to improve.
A popular intention I've heard from so many people is "staying present" and not getting wrapped up in the past or future. It's so important to try and live in the moment and be grateful for who we are and what we have today. It's also so easy for this mentality to escape us.
Invest in Your Career
The mention of "focus" perfectly translates into my goal of focusing on my career. To me that means at work and here on this site. After making a transition in my day job, this year will be one of growth and new opportunity. I want to immerse myself and learn as much as I can  – whether that means extra hours, events or networking. I'm excited and motivated to do it.
In terms of this site, it will continue to be my main hobby and focus after hours. I have so much to learn about blogging and running a successful one with content you truly love. Not to mention the business of blogging is absolutely fascinating  and I hope to spend more time listneing to my favorite podcast and reading the best advice from Lindsay and Jess + Blair.
I'm sure I won't stick to all of these, and a few will likely take priority over the other, but I'm glad that I at least have them down on digital paper. Having this platform to hold these intentions, and make me accountable, is much different than the index card I wrote them on last year. Which I still have hanging in my cubicle. It doesn't matter where it's written, but I'm quickly learning that sometimes that's the deal breaker, as elementary as it sounds.
What intentions are you setting for yourself ? I wish you the utmost happiness as you ease into the year and I'm so grateful to have you here.