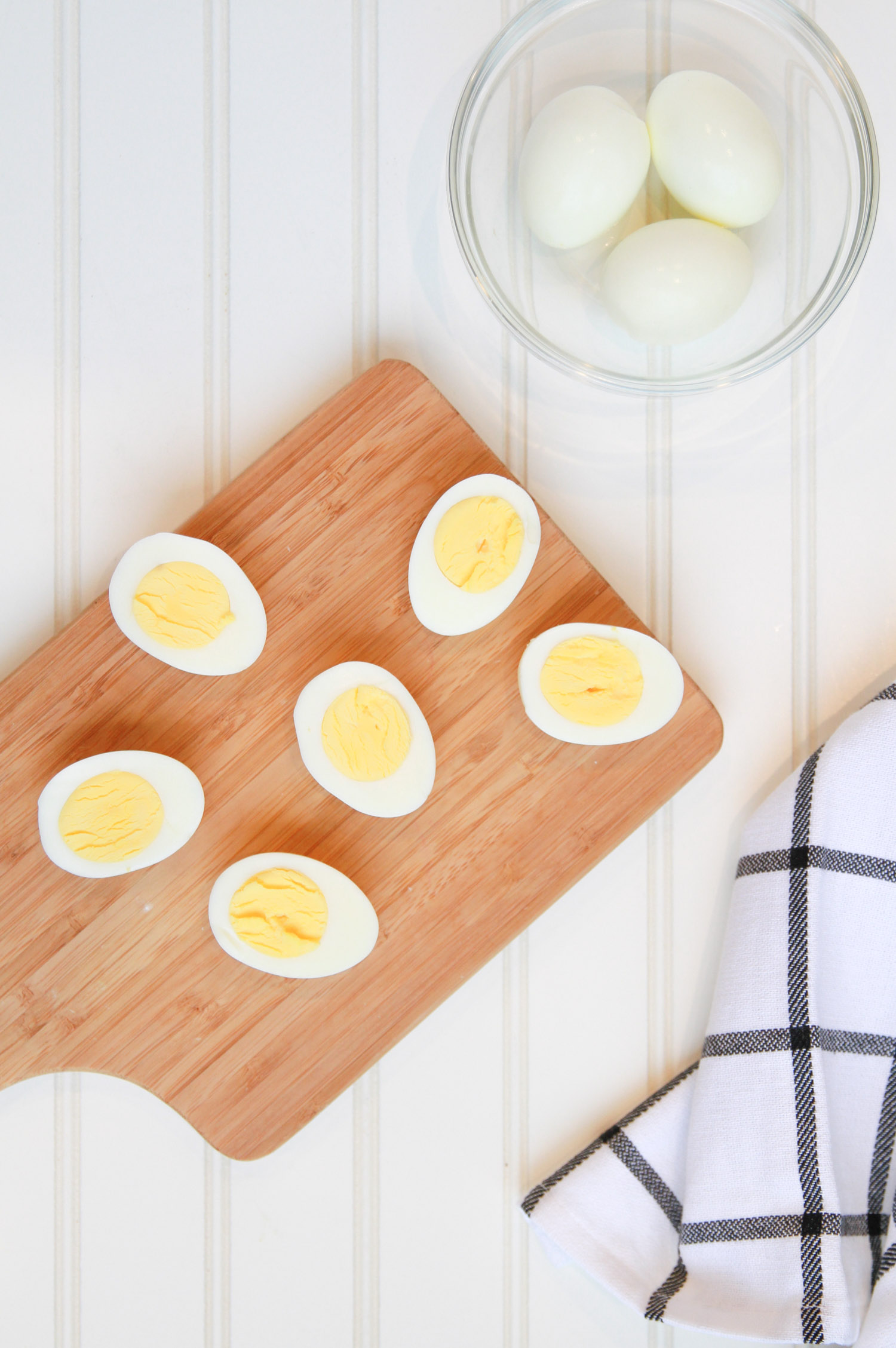 Deviled eggs and I go way back. As a kid I'd ask my mom if I could make them for whatever holiday was happening, Why? I have no clue. I think I just thought they were fun to make and fill? The oddest part is I never actually ate one until my late college years. They secretly always grossed me out. Go figure?
The story we laugh about every Thanksgiving is about the year I made them and mixed up "teaspoon" with "tablespoon" – while measuring the salt. It was my cousin's wife's first time at at a holiday and she mentioned how much she loveeeed deviled eggs. I practically force fed them to her, only to learn years later that she could hardly take them down because they were so salty. Poor, sweet human, I am so sorry. Thank you for being polite. I think I've got the recipe down now. Maybe.
I should also mention that this is a very affordable appetizer choice – eggs this week were $0.89 a carton. And while they might get an old-school-grandma's house-Easter Sunday rep, I'm a firm believer they're having a Brussels spouts-style renaissance. Remember a few years ago when Brussels popped up on every restaurant's menu? Yeah well the same thing's deviled eggs. Best kind I've had are lobster ones from here and this recipe is far from that. But it's still a simple, pretty classic that's perfect for any holiday.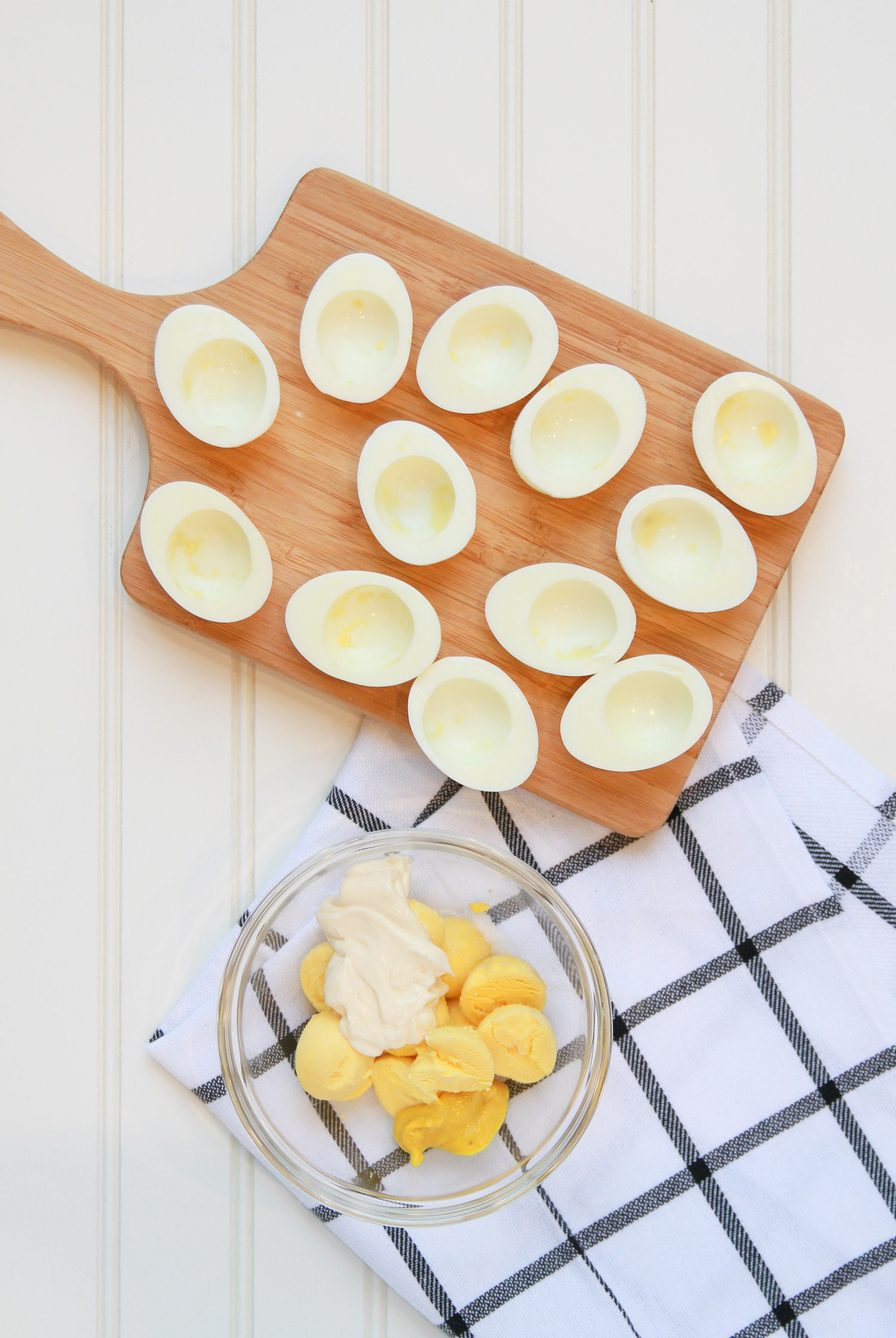 I prefer a rustic look with these eggs. Using two spoons and having them imperfect is what it's a ll about, in my opinion. If you're feeling fancy, you can always get crazy and use a piping bag.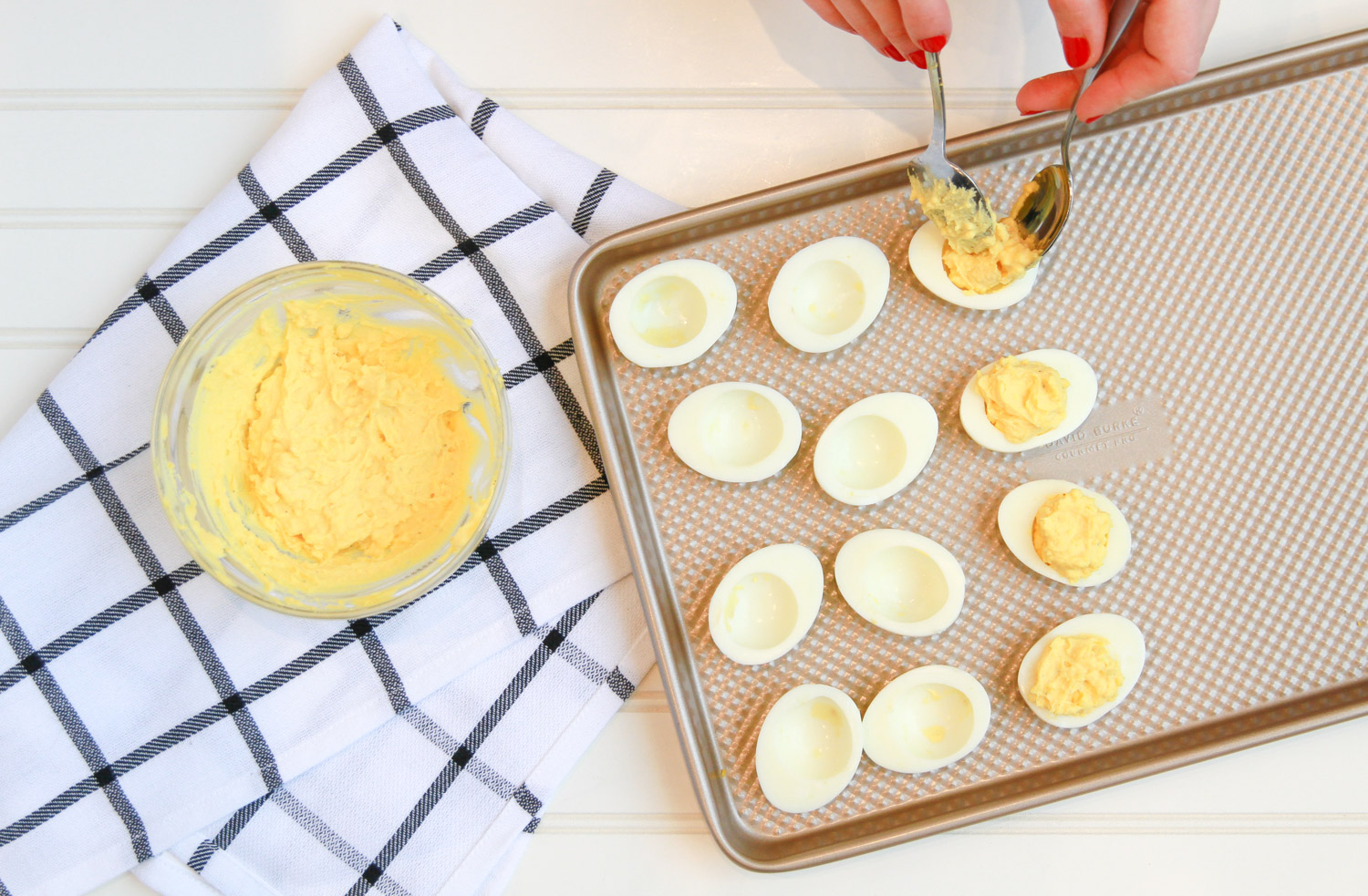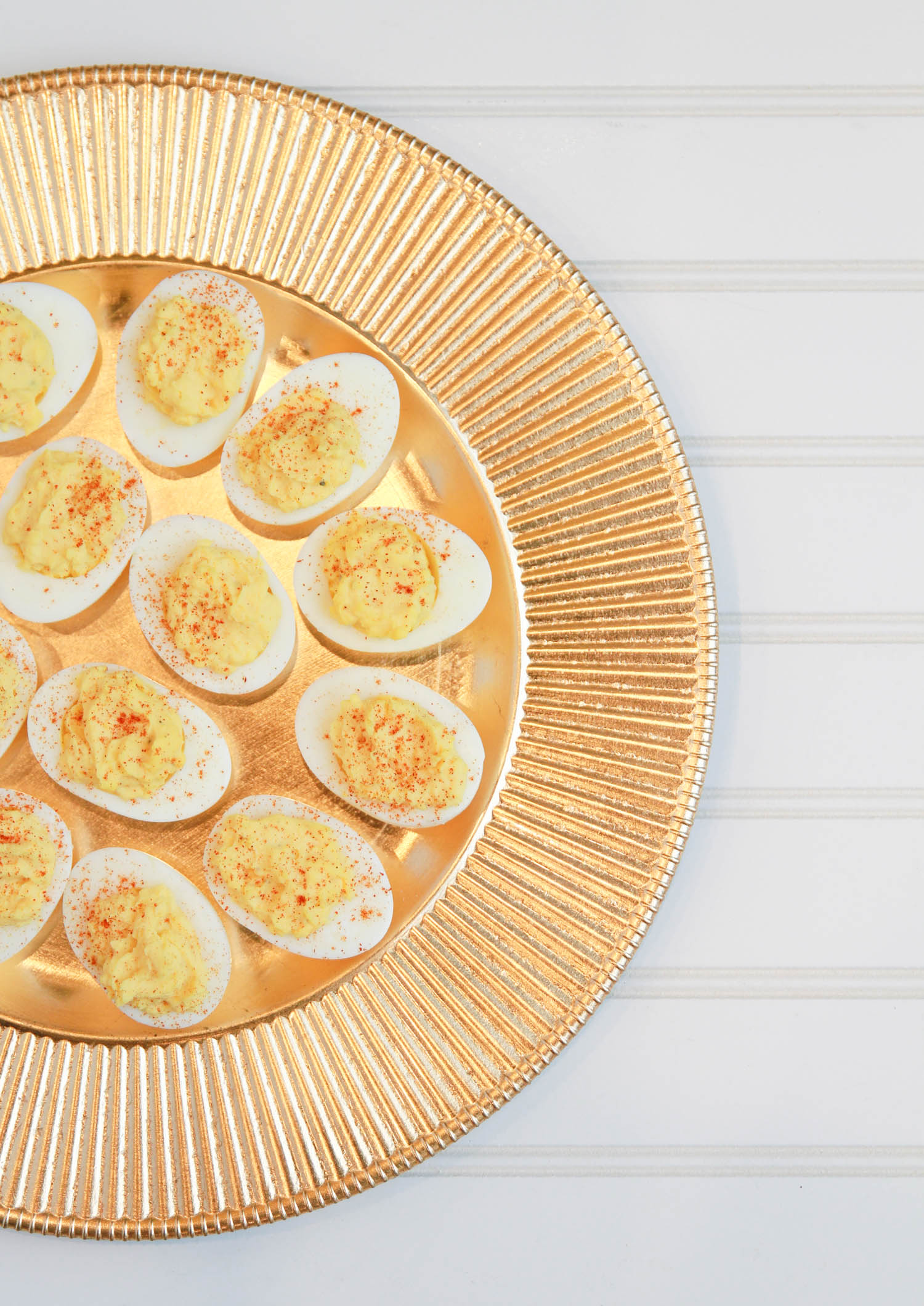 And yes, this is one of those inexpensive holiday chargers that's supposed to go under a dinner plate to dress up a place setting. But I think they work perfectly in place of a cookie tray – or in this case – appetizer platter. Maybe one day I'll get one of those snazzy egg platters. (To be honest it seems like a waste of space, but maybe one day I won't live in a studio? #dreambig)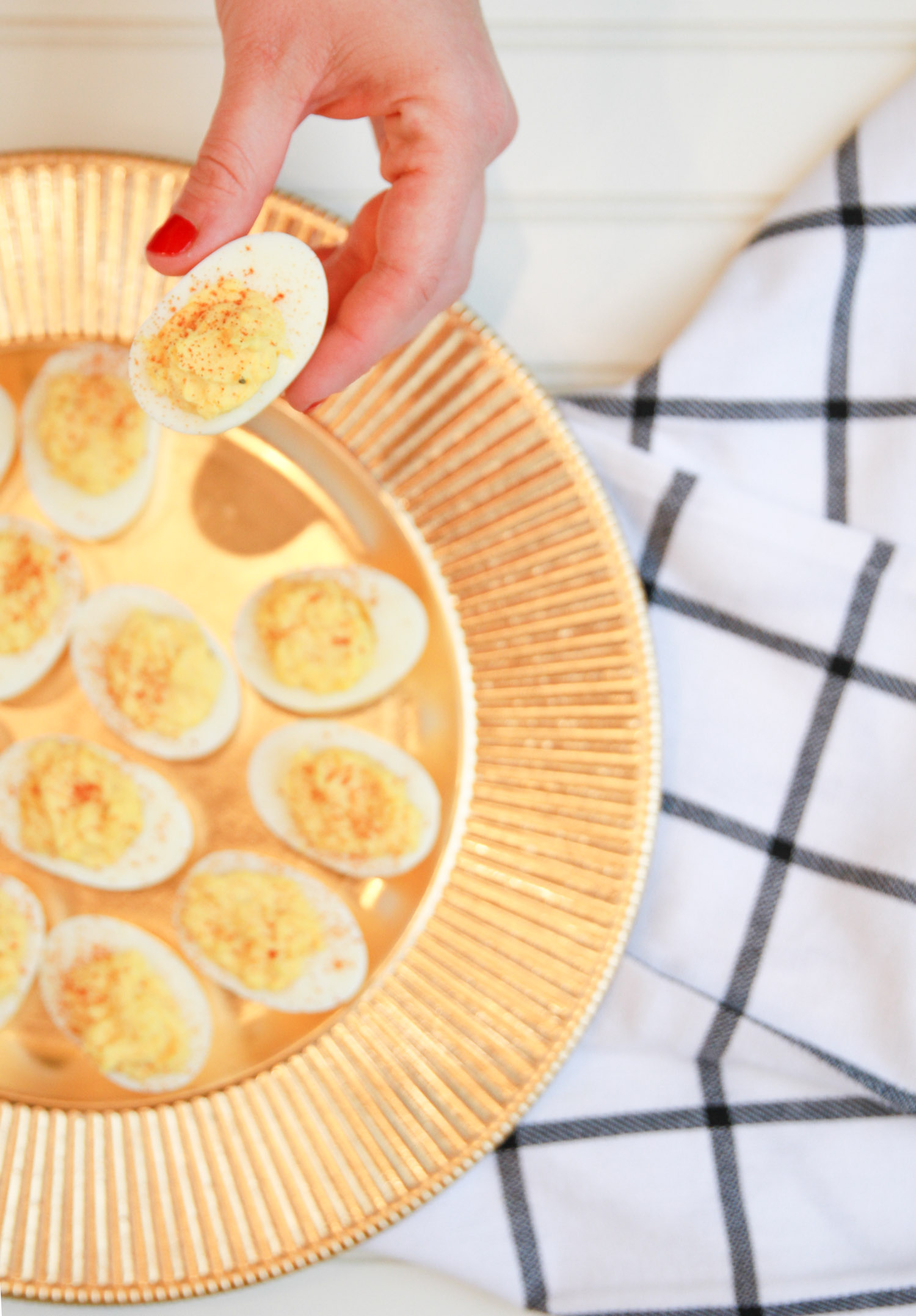 Photos by Kenzie Kokta
Ingredients 
6 eggs
3 heaping tbsp of mayonnaise
1 heaping tsp of yellow mustard
1/8 tsp salt
sprinkle of black pepper
Paprika for garnish
Instructions
For the hard boiled eggs:
Place eggs in a medium-sized saucepan and add enough water so the eggs are covered by about an inch.
Bring to a boil. Then, cover, take off of the heat and let sit for 12 minutes.
Carefully remove the eggs and place them into a bowl of ice water to "shock" them.
For the deviled eggs::
Peel the hard boiled eggs. After peeling I drop them back into the water for a quick rinse in an attempt to remove all eggshells.
Carefully halve the eggs. Use a paring knife and wipe it down between each cut with a damp paper towel. This allows for a clean cut.
Pop the yolks out of the whites and place them into a bowl. Add mayo, mustard, salt and pepper. Mash with a fork vigorusly until you get a creamy, whipped texture.
Fill the whites with the yolk mixture using two teaspoons. Lightly sprinkle with paprika and transfer to a serving dish.