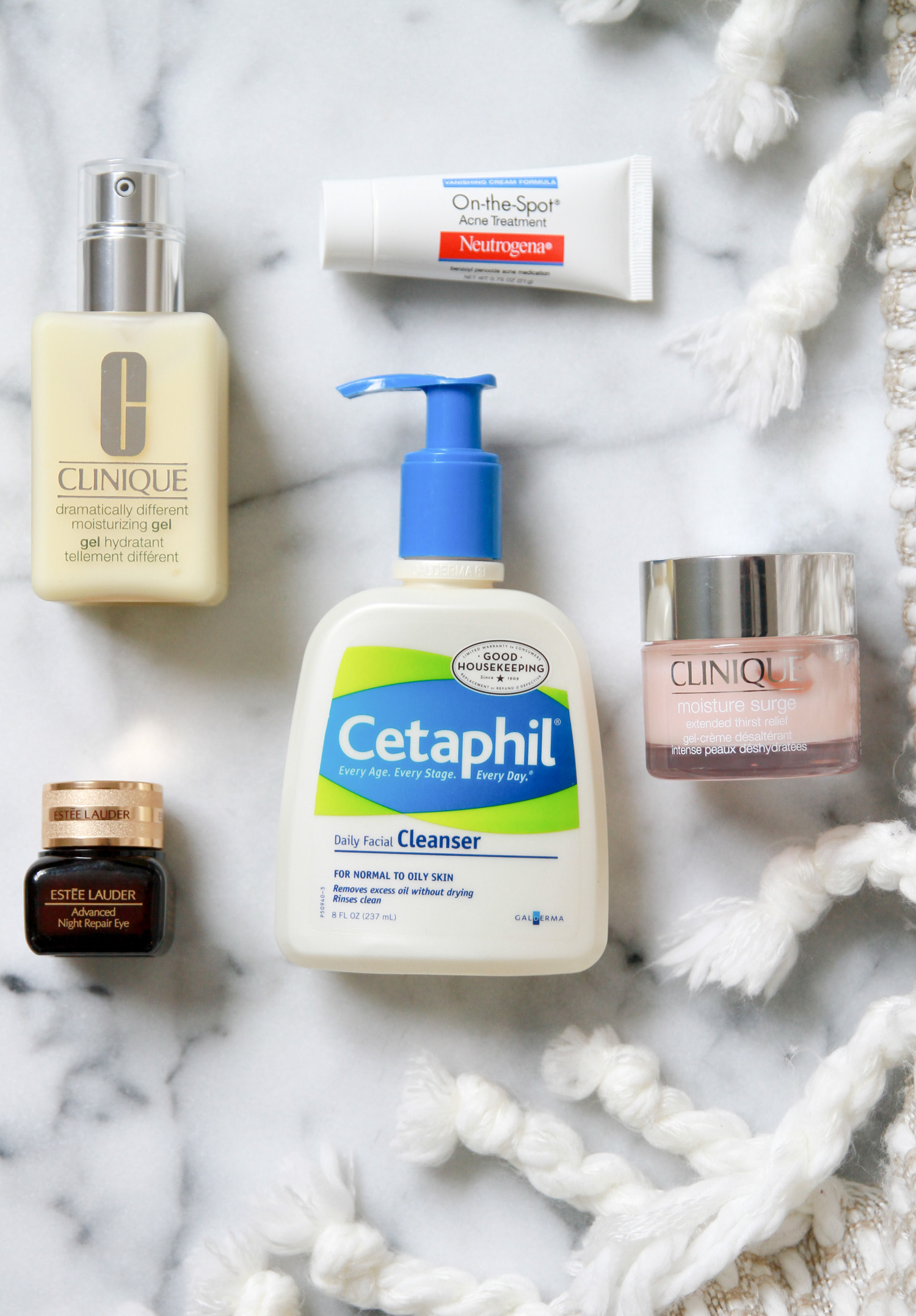 In my 27 years of life I've tried my fair share of skincare products – and had my fair share of skincare issues. I've struggled with oily skin and  breakouts for the majority of my life. And although my skin still freaks out occasionally, and is anything from perfect, I think I may have nailed down a few simple products that have worked the best for me.
A quick back story I should include: My sister started working for Clinique when I was in middle school, and during my freshman year of college I started working for Estee Lauder. Those jobs opened our eyes to the importance of taking care of your skin. While the beauty industry may sometimes seem oversaturated and expensive, basic skincare is easy and important. And while I could go on forever about my experience working behind a beauty counter, I'll keep it simple and just share the products that have never failed me.
This is probably the first skincare product I started using around 8th grade when my skin was just starting to get oily and breakout. My sister finally coninveced me to start moisturizing – which I certainly disagreed with since I thought my skin didn't need anything else to make it more oily than it already was. What I didn't understand was the word "oil-free." I haven't turned back since. I quickly realized the importance of having hydrated skin regardless of your skin type. Expecially, for breakout-prone skin, keeping that pH balance normal is key. I use two pumps of this twice a day, every day.
Note: This is such a popular product and I think was once named the best moisturizer in the world. If you have dry/normal-to-dry skin, then use the original Dramtically Different Moisturizing Lotion, which isn't oil-free. Clinique also does a great job offering different sizes should you want to try this product or travel with it. I love when this jumbo size is an option – it's such a great value. I have this travel size, and this mini-travel size for when I'm really tight on space.
FYI – Currently, Carson's and Bloomingdales are offering amazing gift with purchase deals when you buy Clinique.

I started using Cetaphil's Normal to Oil Skin Cleansar in college when my dermatologist recommended using a mild, non-acne cleanser while I was on some strong perscription products. This light cleanser leaves your skin feeling clean with no film or residue. I do recommend always using makeup remover first, if you're wearing any. It's an affordable option that you can find at any drugstore,  and has understandably become a cult classic.
Note: They also make convenient travel sizes – I love this 8 oz. option and I think I need this baby size for my Europe trip!

Another skincare lesson my sister taught me early – eye cream is one if the most important things you can put on your face. The skin round your eyes is about 10 times thinner than the rest of your face, meaning it's usually the first area to show sun damage and age. Keeping that area hydrated makes you look rested and keeps skin firm. However, that's all the more reason to use a product that works for you – and if you have any irritation take it back to the store. Yep. Return it, any brand/retailer should gladly take it back.
When I was 19, I started working for Estée Lauder and I was introduced to the luxurious world of skincare. Yes, this is pricey, and yes I usually received it for free, but this tiny jar lasts for months (maybe a whole year?). I usually use it every night and a different eye  cream – usually this one – every morning. Honestly, any eye cream is good – so long as it doesn't irritate you! I'm always up for trying a new one, considering this is a steep price  point and my sample sizes will run out eventually. It'd be even better to wear one that has sunscreen – I will be on the hunt!
Note: This product is so, so versatile and is amazing to mix with concealer and tap under your eyes to avoid dry skin and give the eyes an illuminated look. We used to do this all the time behind the counter (mainly because it sells two products instead of one, LOL) – and now I do it all the time when getting ready.

Although I've only been using this consistently for abut 5 years, I first used it after a dangerous sunburn in high school. My sister (big surprise at this point!) suggested Estée Lauder's Advanced Night Repair for the face (another great product!) with Moisture Surge layered on top. This saved my skin from the burn. I digress….
This is an oil-free moisturizer and "booster" – meaning it can be layered on top of other products (such as Clinique's Dramatically Different or a facial serum). Because I have oily skin, this is a miracle worker. It leaves my skin hydrated in the winter and helps repair it overnight. During the colder months, I usually this twice a day. During humid Chicago summers, I usually just use a little, or none at all, at night.
Note: This moisturizer can also be used over makeup.  I was excited to see that Clinique just revamped this skincare product line. They enhanced the formula of the moisturizer and also created a supercharged concentrate. I tried a few samples of this and it's basically a concentrated version of the moisturizer – great for late nights or when your skin will be exposed to dry air for a long period of time. I've had travel sizes of this hydration spray which can be sprayed over makeup, too and is perfect for airplanes or hot summer days.
I'm a big Clinique fan, can you tell?

I started using this about 7 years ago when I weened myself off of prescription products. It's now really the only thing I use daily to control breakouts. Its a basic, gentle benzoyl peroxide product and it leaves skin feeling smooth without drying it out. It's inexpensive and reliable.

Clearly, I could talk skincare are all day – and believe me, my skin is far from perfect. Most importantly, when it comes to products, my method is – if it ain't broke don't fix it! Why would ya? I'd love to know the products that have stuck with you through the years, too.